8 Free Productivity Cheatsheets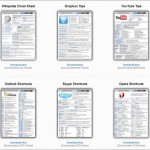 When it comes to boosting your productivity, especially on the web, any little bit of time saved really adds up. You can greatly increase your efficiency by just knowing a couple of hotkeys on your keyboard. Sometimes even that tiny little bit of help can save up an hour or more at the end of the week, especially when you get really good at using all of the shortcuts that are nestled in the average webpage.
But how do you know what these shortcuts are? How can you be sure you are using a program to the best of its ability? Is there anything you can have on hand to let you know at a glance what to do? How about a guide for things like the technical aspects of a service, such as photo dimensions?
Thankfully, there are many interesting productivity cheatsheets out there to give you a hand.
Social Media Productivity:
In the scheme of things, Google+ is still a pretty new social network. It is also one of the more heavily debated, with everyone arguing the number of actual users, the benefits of their newer tools and the positives of Google+ as a marketing tool on par with Facebook and Twitter. If you have thought of getting an account there, or you just want to improve your use of it, this is a great cheatsheet to have. It gives you a quick rundown of the hotkeys, ways to manipulate text and to quickly navigate the site.
This is another helpful Google+ cheatsheet. But this one is all to do with the use of circles and little tricks to help you work the system made popular by the social media site. It also shows you how to use your photostream, which is very helpful.
We were all the new kids on the Facebook block at some point. While it was a rather simple networking site once upon a time, it has grown into something completely different. From extensive games to apps and social shopping, there is a lot to take in. This will help you get through those beginning steps without too much stress.
Like Facebook, Twitter can be a little overwhelming. Especially when it comes to figuring out things like retweeting and hashtags. This will give you all you need to know to get going. It even gives you your first hashtags to follow, which you will probably enjoy no matter hwat your interests are.
Computer and Typing Productivity:
I wasn't sure which of the cheatsheets created by blog MakeUseOf were most useful, as they are all pretty great. So I decided to just link to the download page so you can pick your own. They cover everything from Windows 7 to Skype, each with their own visually pleasing and informative rundown that gives you a lot more information than the average cheatsheet.
6. Firefox Keyboard and Mouse Shortcuts
Firefox is full of shortcuts that you can use to operate the many features offered by the browser. Chances are you don't know half of them, as the list is really extensive. For example, did you know there are three different codes for completing a .com, .org or .net address? Those are only a few of the cool little tricks you can learn.
Everyone knows 'lol' and 'brb'. But did you know 'bfn', or 'emfbi' or 'fud'? I didn't, but they do apparently exist. This is a full cheatsheet of terms for chat, instant message, social media or email. I wouldn't be surprised if half of these were made up, but then again I might just be old.
Search Productivity:
8. Google Guide
Google is the single most valuable tool you can have when it comes to research or anything else requiring you to search. This guide will show you how to best narrow down results, find hidden gems in far pages and more. In other words, it will show you how to use Google like a boss.
Do you know of any cool cheatsheets to share? Let us know in the comments!