Ideas for Productive Breaks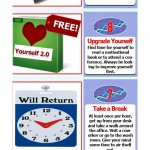 One of the best things you can do to increase work productivity is to take periodic breaks. Not all breaks lead to increased productivity however. If a break is too long or too short it can actually distract you from the task at hand. Also if all you do is leave your workplace but don't stop worrying about the task at hand then you are unlikely to come back with the renewed energy that an effective break can bring. Here are some great break ideas:
Take a nap – A 15 to 20 minute power nap can do wonders for your productivity.
Talk to a friend – A phone-call to a friend you haven't talked to in a while can bring a lot of energy that can translate into increased productivity and motivation.
Go exercise – Exercise can relieve stress and increase energy.
Eat something – A delicious meal can be very pleasing and distract you from the stresses of work.

This link was provided by noomii.com. Noomii provides numerous life, career, business, etc. coaching for the masses all throughout the United States and Canada.