6 Best Flickr Groups for Self-Improvement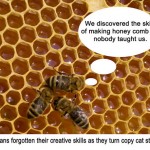 When you think of Flickr photo pools, you probably think of any random genre that you are into yourself. Just a place where photos of a specific subject (sometimes very specific) can be shared with others for feedback, or even just bragging rights.
The Flickr community is extremely vast in this way. People love joining groups and submitting their own images, and it can be a great place to fine tune your craft. But did you know it can also be a source for changing your life?
Many people actually use Flickr as a means of self-improvement. Not by way of improving their camera work, but themselves as a person. Here are six groups that can help you do that.
Take a gander at Facebook on any given day and it becomes obvious that people love quotes and information superimposed over photos. But this group is dedicated to the ones that are purely for the sake of motivation. Whether it is for building confidence, sparking you into an action or just cheering you up when you feel at your lowest, there are images here to help. It is also fairly small (only 112 images at the time of this writing), which in this case can be a positive if you want a quick pick-me-up.
Want a laugh? This is a collection of those old "Success By Mail" scams that they used to put in the back of magazines. In fact, you can still find them to this day in various publications or on the web. If you are feeling like a failure, this can be just the ticket to pull you out of that funk. Or, if you want to risk it, one ad promises that you can make it big in showbiz…from home!
Make your own motivation posters and share them with others. There are plenty of images waiting for captions in this pool. Some are in English, many are not. But there is no language requirement, so go nuts!
Flickr has a tool called Motivator. This group's pool is for those images that were used creating it. There are posters of all sorts, some inappropriate and even scary, many funny, and many more uplifting and inspiring. It is hard not to want to live by a few of these, especially if you are trying to change your attitude towards life in general.
If you want to feel empowered, you will be after going through this pool. Gorgeous images, many historical, and all set with motivational quotes or wide phrases that can benefit anyone to read. There are also some discussions opened about things that inspire you.
Here is another nice group for uplifting pictures. They are strict on the no demotivational thing, so it should be kept positive and appropriate. Also, you should always comment on two photos each time you submit your own. There are 80 active members, so you should be able to get some good support and feedback here.
Do you have a Flickr group you think helps with self-improvement? Let us know in the comments!
Image Credits: 1, 2, 3, 4, 5, 6.