10 Best Self-Improvement Boards on Pinterest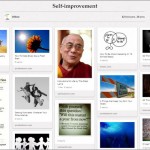 We all have things about ourselves and our lives that we would change. Sometimes they are cosmetic issues like the way we have our hair. Others are lifestyle factors, like fitness level or health. More are deeper and effect our entire lives, like location of residence, education, job title and social status.
It is in our nature to strive to be more. Setting goals is even considered positive, and a great way to remain happy and motivated. After all, how else will we feel a sense of achievement if we never set out to conquer those milestones to begin with?
Keeping this in mind, it is no wonder that self-help and self-improvement genres are so hot. It doesn't all come down to motivational speakers, though. If you want to be inspired, check out these boards on Pinterest. Then get ready to improve yourself on your own!
*** More inspirational photography here: Self Improvement Groups on Flickr
There are more than two dozen third party links pinned to this board. They go to posts about the habits of healthy people, improving motivation, avoiding pitfalls, tips on improving your relationships through your attitude and more. It is all about making adjustments on the inside to make your life what you want it to be.
If your biggest complaint has to do with fitness, these are a good nine pins to have on hand. They cover various workouts meant to be done in little time, as well as tips for targeting specific areas. There is also a chart of yoga positions that shows all the core moves that you can do on your own.
Workout, diet and health tips are posted by the dozens on this board. There are also helpful quotes to keep you motivated as you work at changing your body. One of the best things they have are links to other websites that are specifically aimed at fitness routines. Such as a site that posts a new 12-minute cross fitness workout every day.
This is another one mainly about fitness. But there are a couple of other items there, as well. Some are quotes meant to kick you into gear. Others are products that control things like portion. Others are more spiritual in nature, like ways to pray for your children.
Interested in getting healthy as a family? There are a couple of cool resources here. Plus information on the effects of obesity, among other topics that are important for anyone who is looking to lose weight.
Work on eliminating or preventing cellulite, reduce headaches, see how much sugar there is in your drinks and get a bit of a laugh with this board. You can also see the benefits of losing fat (such as helping with sleep, stopping joint degrading and reducing the risk of various diseases), and more. This one is much more of a grab bag than most.
Most of the pins here are motivational quotes. But there are also a few fitness and diet pics, such as foods that burn belly fat and workouts that give girls abs. Oddly, there is also an emergency checklist for a 72-hour survival kit. Which is really random, considering the rest of the content.
Most of these are spiritual or motivational in nature. Thrown in there are a few items about diet and exercise, as well as personality changes like always being the kind of person you would want to meet. You sometimes find some funny things, as well. Such as memes and sarcastic ecards.
This board tackles health, detox drinks and diets, organizing and cleaning the home, motivational quotes, fashion and makeup. It is one of those hodge podge boards that seems to hit all of the points that most say they want to work on.
Here you will find all motivation, and nothing else. Quotes, tips for living, reminders to be happy for yourself and others…it is all pinned here. Chances are, you will find something you can relate to on this board. Probably a lot of things.
Do you have a good self-improvement board on Pinterest you would like to share? Let us know in the comments!