Destinations for Spiritual Discovery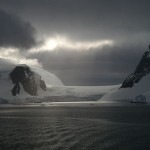 Tired of the frenetic pace of modern life? Has the endless routine of work, friends and Breaking Bad repeats left you feeling somewhat empty, unfulfilled? This is the article for you. It's no secret that most of us have the occasional doubt: the nagging worry that all this really is for nothing and we're wasting our brief existence arguing with teenagers on Xbox Live.
We all have our own way of dealing with ennui, but few are better than taking time out to go somewhere new, see the world afresh and adjust our perspectives accordingly. Here then are 6 destinations ripe for those in need of a spiritual epiphany.
Adam's Peak (Sri Lanka)
Atop this imposing mountain in Sri Lanka's south lies a narrow imprint loaded with significance. Here, according to some, is the footprint Adam left as he was expelled from Eden. Or maybe it was the Buddha who left it as he ascended into heaven. Or Lord Shiva. Or possibly St. Thomas. Nearly every religion ascribes some significance to Adam's Peak, with pilgrims flocking here in their thousands to pay tribute. For secularists, the stunning views are enough to make anyone take stock of their place in the Universe; on a clear day you can see for 65km. Literary enthusiasts will be pleased to note Marco Polo once visited here; the mountain is referenced in his Il Milione.
The Holy Land (Israel, Jordan, Palestine)
Bethlehem, Jerusalem, Mt. Nebo, the Wailing Wall, the sites of the Baptism and Crucifixion: if you're of a religious bent, places don't come much more spiritual than this. Fraught with political tensions, sectarian divides and cluttered with tourists, the Promised Land may not yet be living up to its name, but a considered tour away from the crowds may help you reconnect with your faith in a whole new way.
Mt. Kailash (Tibet)
This remote, forbidding summit is a centrepiece in Jain, Hindu, Buddhist and Bon beliefs. Believed to be the home of Shiva the Destroyer, it is further considered by some to be the physical embodiment of Mount Meru: the point where all physical, metaphysical and spiritual universes intersect. Getting there isn't easy. With no public transport, a distinct lack of places to stock up and sub-zero temperatures, the journey harks back to a pre-modern idea of pilgrimage: a hard trek through remote, inhospitable lands to attain spiritual salvation. The reward is sights few will ever see, and an adventure in some of the bleakest terrain on Earth.
Lake Atitlan (Guatemala)
Famously cited by Aldous Huxley as 'the most beautiful lake in the world', Atitlan is as stunning today as it was 80 years ago. Vast, tranquil, ringed with volcanoes and Mayan holy sites; the lake cannot be circumnavigated by land, requiring instead a blissful boat ride to get from one village to another. Like the Holy Land above, tourism is a major problem here. But plan ahead, do your research and you may just be rewarded with a solitude as absolute as it is awe-inspiring.
Uluru (Australia)
280 miles from the town of Alice Springs, in the heart of the outback sits Uluru. Briefly known as Ayer's Rock, this otherworldly formation carries deep spiritual significance for the Anangu people, who ascribe countless legends to it. Ghostly red and almost thrumming with mystical energy at sunset, Uluru is the place Down Under for anyone in need of a spiritual fix.
The Great White Silence (Antarctica)
Haunting, desolate, terrifying; Antarctica has captured the human imagination since Ptolemy first sketched Aristotle's fabled Southern Land. Hostile, inaccessible and buried beneath a mile of ice, the southern continent feels like nowhere else on Earth. Against this blank canvas, you may just find yourself projecting any number of profound feelings. Like a shard of ice, it lodges in the heart of visitors, dragging them back time and again with its raw, inhuman power. For atheists, visiting this remote land may be the closest they come to a religious experience.
Discover your spiritual side without breaking the bank: First Choice last minute deals.