Five Tips For Starting Your Day Right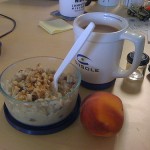 Does this sound like your typical morning?
The alarm shrieks jarringly as your body awakens in a panic state. Perhaps your pillow is crushed while trying to drown out the noise. Do your feet stumble in a stupor trying to find the source of the horrid racket? Precious moments are lost frantically trying to decide what to wear. Your morning is in shambles as an attempt is made to look presentable for the day. A doughnut and coffee is your daily breakfast in your mad dash for the door. Anxiety creeps higher as your scramble to find keys lengthens. Your kids and spouse wave their goodbyes from the window. The dog looks longingly at the door where his leash hangs tauntingly.
This is not a pleasant way to start any day. Make some basic changes, and take charge of your morning routine.
There are many helpful tips that you can use to start your day off better.
Five easy tips are:
Learn to organize your morning routine.
Incorporate exercise into your morning ritual.
Establish healthier breakfast habits.
Connect with pets or people at the start of every day.
Strive to keep a positive mindset.
Your body can be trained to want to awaken in the morning.
How your morning starts has a dramatic impact on how your entire day will flow. Determine to be better organized by preparing for the next day the night before. A time-saving idea is to check the weather forecast, and take your time laying out a complete outfit. Individuals should choose an ensemble that will look and feel fantastic.
Organize your bathroom so your daily shower is enticing. Towel heaters are a small luxury that can warm up cold mornings. Utilize fragrant candles, scented body washes and moisturizing lotions to stimulate the senses and soothe tired muscles. Ensure all your bathroom essentials are within easy reach. Utilize a key rack or basket in your entryway to place all of your necessary items. Simply pick them up on your way out the door.
Look forward to Monday Mornings!
Allow yourself extra sleep to work in an enjoyable morning exercise routine.
Choose an activity that suits your unique personality. Some ideas are walking, biking or even yoga. The exercise regimen can be varied if boredom is an issue. The routines can be done indoors with exercise equipment, television or DVDs. This is perfect for those people who love their PJ's. Another option is to take advantage of the outdoors. Stopping by a gym may boost your motivation and enthusiasm. The endorphins released by exercise promote feelings of well-being. This is a healthy way to maintain inner balance.
Eating a healthy breakfast has been proven to boost the body's immune system.
Selecting foods rich in nutritional value enhance health. Add vitamins and minerals to your diet if there is a tendency to eat less in the morning. Make breakfast enjoyable by reading positive news articles. Play upbeat music to energize your spirit. This is an excellent time to catch up on family time. People who awaken slower might enjoy eating breakfast outdoors during milder weather.
A glorious sunrise is a magnificent way to greet the new day. Simply enjoying a scenic view from a window can stimulate the appetite and settle frazzled nerves. Strive to put your mind in a positive state. The day's obstacles will become manageable challenges to overcome. When time is an issue, drinking a fortified shake is easy to tolerate. This is a better option than sugar laden foods high in calories.
Attempt to connect to other living beings in the early part of the day.
This is a marvelous time to walk the dog, play with the cat or watch birds and fish. Drive your child to school to stay in tune with their lives. Make a point of giving people in your path a friendly greeting. It can make someone's day brighter by seeing a smile on your face. Dropping a card to an elderly relative takes only moments. Deliver breakfast to a neighborhood shut-in. People without pets can offer to walk someone else's dog.
Determine to perform a selfless deed every new day. Brushing off a neighbor's car during snowy weather is a friendly gesture individuals can make. Meet up with friends for a fun breakfast group. Stimulating conversation, a relaxed atmosphere and eating your favorite foods can help to jump-start your day positively.
Learn what methods work best for your body and personality.
It is a peaceful feeling to wake up to a favorite song. Some alarm clocks play melodic bell tones. Soothing lights can awaken sleepers from a restful slumber. Meditation and prayer can be encouraging to many. Try reading an inspirational passage from a book. These measures can restore your inner being and renew your mind.
Choose to be and think positively. Each day holds the promise of new and exciting opportunities. Workers that commute should continue the positive environment in the car. Road rage and traffic annoyances will be lessened when travelers are listening to uplifting music, learning a new language or conversing with fellow passengers. Utilizing deep breathing techniques, and enjoying the outdoor scenery will keep stress at bay. Learn to refocus your thoughts swiftly if your mood declines.
Keep positive!
Remember that your destiny is within your control. Refrain from letting others or adverse situations bring your positive spirit down. Every day can be better with the proper attitude and a healthy, balanced lifestyle.
About the Author
OnlineClock.net are the authors of many different online alarm clocks and timers which anyone can use to help wake up on time. These are free web applications that operate directly in your web browser, without the need to download or install any kind of software. If you need an alarm clock or a back alarm, be sure to check out the options on the Online Clock website.