HOW TO: Monitor News with Tweetdeck (Short Tip)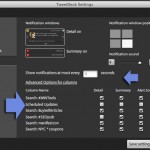 One of the greatest things about Twitter is that you can get real time news delivered right to your desktop: this improved productivity when properly implemented.
Let's say you are planning a trip to New York and want find some deals and offers in the city (say, to get inspired). You don't have time to search a lot but you don't mind an occasional deal or coupon to save a bit.
So set up a Tweetdeck alert!
The steps:
Install Tweetdeck (available for both Windows and Mac);
Click "Add column" (+ icon to the top-left)
Choose "Search" and type your search term (sadly, Twitter search operators won't always work there for no good reason)
Type: [NYC * coupons]
(Note: You'll always be able to change for something more specific to adapt search results to your needs)
Continue working and wait for new coupons to come straight to your desk in the notification:
Note: You can adapt how this pop-up appears and for how low it remains in your desktop (use "Settings" for that). You can even set up for which columns you want to see popups and which of them you want to track manually (via opening the app):
Here you go! Please let me know what you think!